by Mary Carver, Class of '67
The Kemptville College Alumni Board was thrilled to hold its Reunion on August 20, 2022, after disappointing cancellations in 2020 and 2021 due to Covid restrictions. Overnight accommodations in the Smiths Falls region were scarce as Kemptville grads flooded the area from across Ontario and from out-of-province.
Due to the heart-breaking demise of Kemptville College in 2016, a strong Alumni Association is credited with successfully keeping graduates connected and memories alive. The welcoming Lombardy Fairgrounds was the site of the recent Reunion and where the exceptional College Alumni Historical Building opened in 2019. Artifacts and photos are well organized and showcased. The historical building is a must-see for all Kemptville grads and former staff members. The best news at the Annual General Meeting (AGM) was that the fundraising goal for the building has been met. More info: https://kcalumni.ca/fundraising/ Members left the excellent AGM assured grads that the Alumni Association was financially strong and in good hands.
Organizers were delighted with the response from featured Honour Years ending in: 0,1,2,5,6 and 7. Members of Honour Years at every reunion are encouraged to contribute an auction item in support of two annual Alumni Scholarships of $1000. each. Auctioneers Roy Carver -Year '66 and Barbara Newman (Burton) – Year '67, were kept alert due to competitive bidding. The live and silent auctions proceeds exceeded $3500.
Delicious meals were catered by the Lombardy Agricultural Society in care of Judy Drummond and her team of proficient, local volunteers. Over 100 attended the luncheon and 250 gathered for the evening buffet where a 110 lb. hip of beef was cooked to perfection. It was tough work to select from the broad assortment of scrumptious home-made pies and desserts. But we managed.
The Sprit Award was won by Year 1967 celebrating 55years since graduation. Twenty-four members were in attendance – including Marion McKee from Mission, BC and Honorary Member, Nancy Curtis of Kemptville. The Spirt Award is presented annually to the Year that scores highest in the following categories:
most members in attendance at the AGM and banquet;
greatest number of items donated to and funds raised at the auctions;
oldest grad in attendance; and grads who married Kemptville grad.
It was not the first time that Year '67 won the Sprit Award. The class is indebted to the dedication of its Alumni Reps – Dennis Dick of Bloomfield (back row L) and Ellen Mooney of Kanata (front row L) who work tirelessly to keep members connected.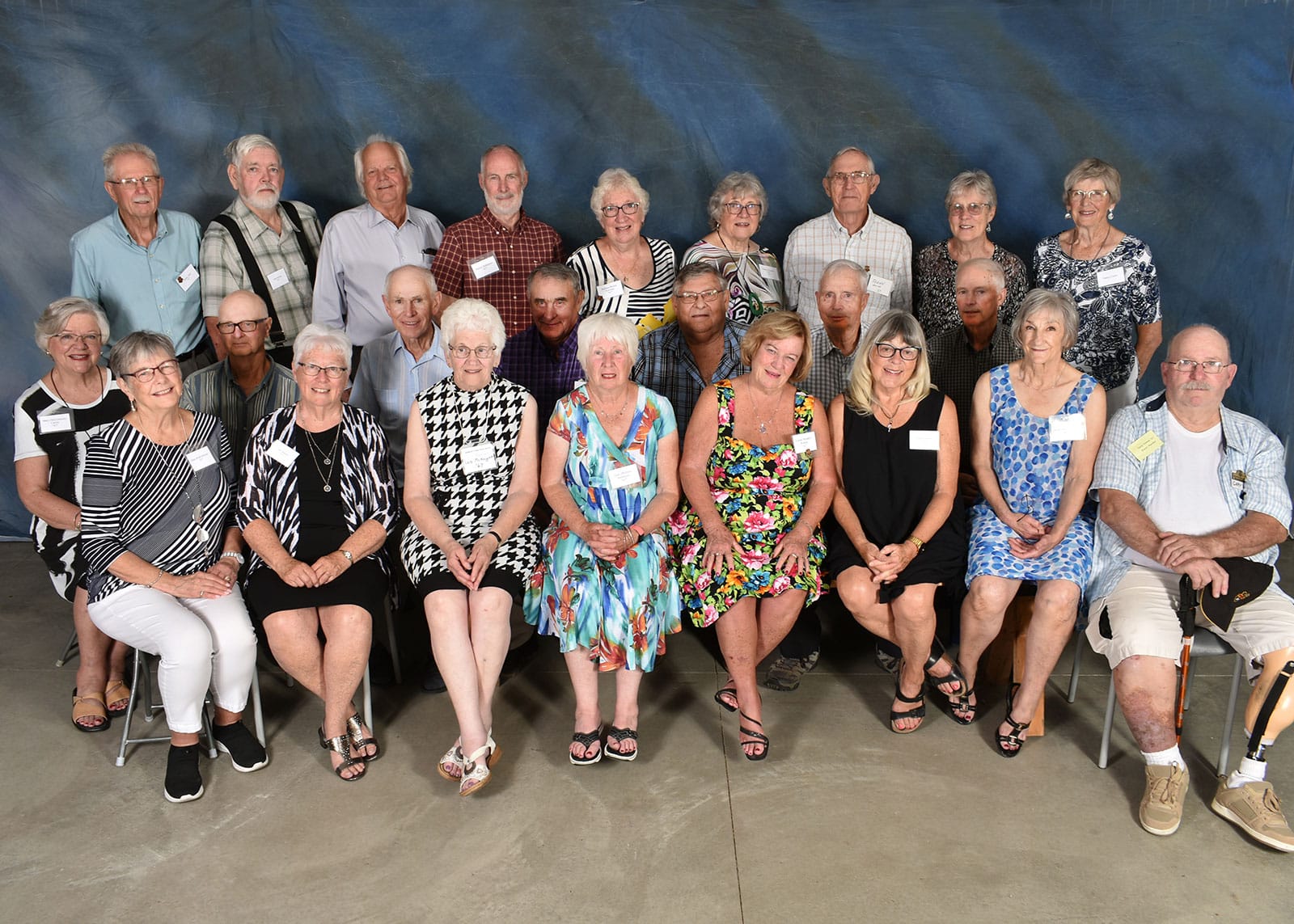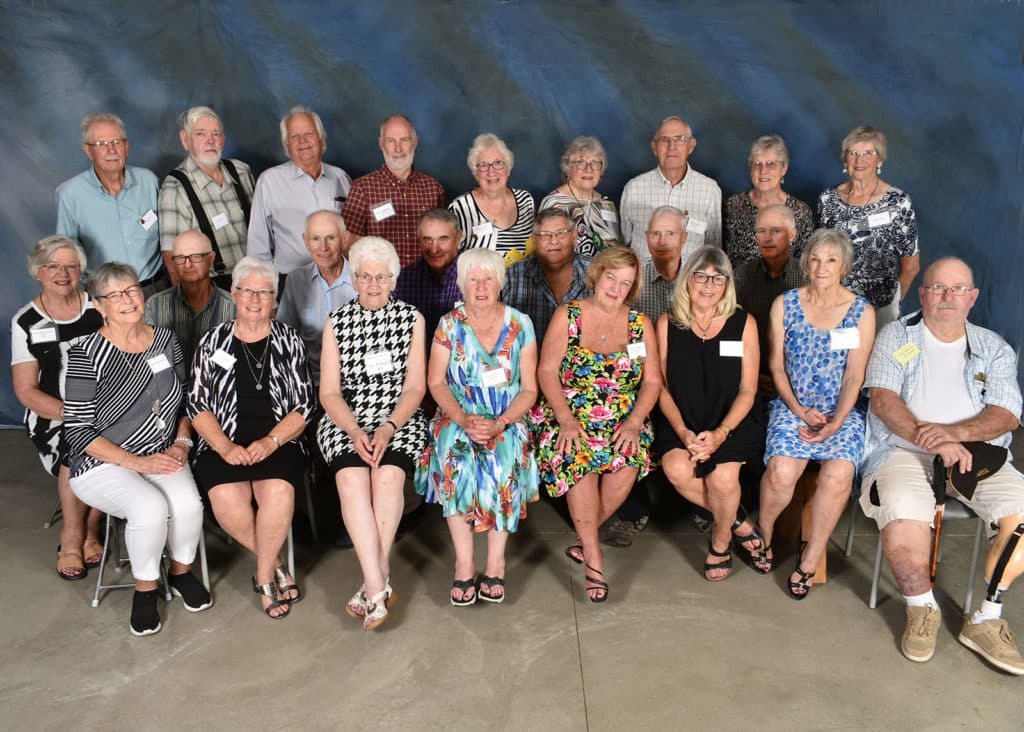 Year '67 had 24 class members in attendance at the 2022
Kemptville Reunion and won the Sprit Award.
Photo by Margaret Link.
More reunion photos: https://kcalumni.ca/reunion/
Despite any trepidation one might feel abut reuniting with classmates of a by-gone era, be assured that a Kemptville College reunion is guaranteed to exhilarate and revive your youth.  It's a highly recommended five-year tonic. As grads, we are all ambassadors for Agriculture and Home Economics, so conversation is easy.
The Alumni Board is already planning for August 19, 2023 – the next Kemptville College Reunion honouring years ending in 3 and 8. Of course, in keeping with the Kemptville College Alumni family spirit, any grad is welcome to attend any reunion. More details: https://kcalumni.ca/reunion/
Mary Carver is a Kanata-based Professional Home Economist, and member of the Board of Directors of the Ontario Home Economics Association – OHEA. She is a proud grad of Kemptville College and former instructor who continues to advocate for Food Literacy in the Ontario curriculum.
For media inquiries contact:
Isabel Kinnear Alumni Board Secretary: isabelkinnear@symptico.ca