The Kemptville College Alumni recently presented their two scholarship winners with their money.
In the picture below, on the left is our President, Gordon French presenting to Haleigh-Jo tePlate and next is Aidan Dennis receiving his money from Blair Dow,  Kemptville Alumni Board Member and Algonquin Perth Campus Liaison.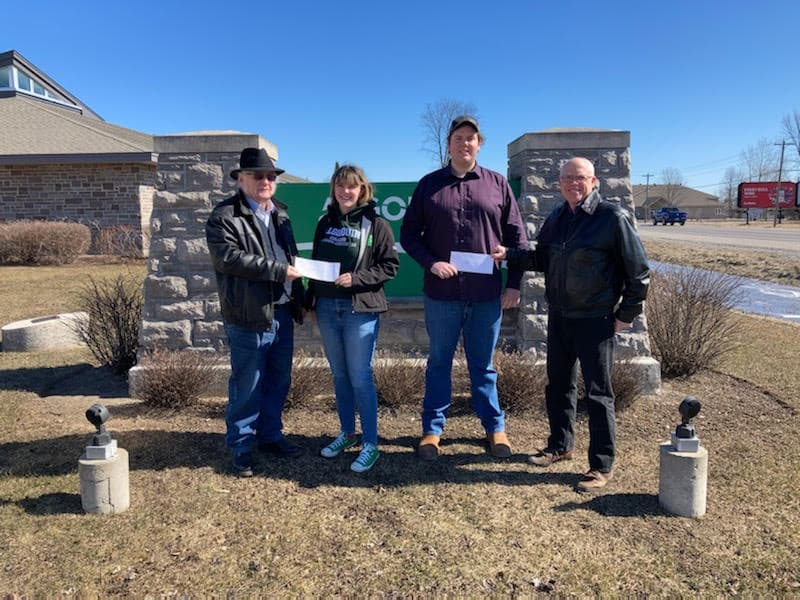 Haleigh-Jo is from Finch ON and is in her second year of Business in Agriculture at Algonquin College, Perth Campus. Her dad Henry graduated from Kemptville in 1982.
She is active on the family farm, Jr. Farmers, 4-H, and the Stormont County Fair Board. Haleigh-Jo will continue her agricultural education at Olds College in Alberta. She plans on becoming a 3rd generation farmer on the dairy and cash crop family farm. She also hopes to someday own a small herd of beef cows. 
Aidan is from Markdale ON and is in his second year of Business in Agriculture at Algonquin College, Perth Campus. Both his grandparents, Keith and Margaret ( Hunter ) Dennis graduated from Kemptville. Upon completion of his diploma, he will be returning to the farm with his father and grandmother. His grandfather recently passed away. They have Dorset sheep. Belgium horses and a Hereford and Charolais cow-calf operation. Aidan has been active in his community, church, Jr. Farmers, and 4-H. His plans are to take over the family farm and apply the knowledge from his diploma courses. 
The Kemptville College Alumni congratulate both these winners and encourage young people to check out the scholarship application form 2023 on the web www.kcalumni.ca  and also on the Kemptville College Facebook page.