Alumni attended the Annual Meeting, visited the Historical Building, and enjoyed the beautiful weather outside.
The Alumni appreciated the excellent lunch and dinner prepared by the "Lombardy Fair Board Ladies."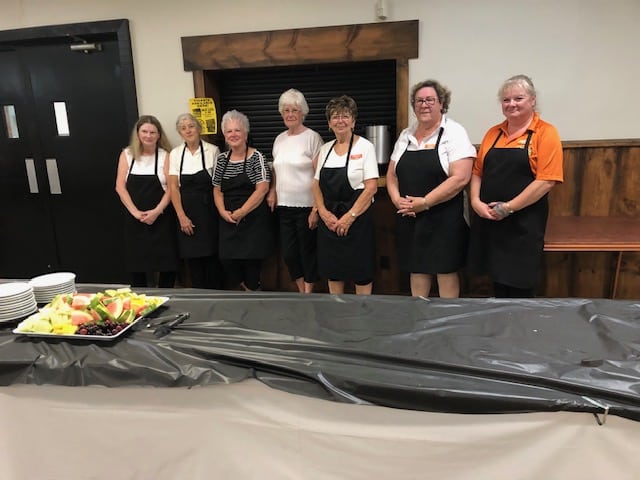 Hugh Sharpe '49, from Napanee,  enjoyed spending time in the Kemptville College Alumni Historical Building. He was greeted by President Gordon French and then had the opportunity to read all the material collected for his year. He will be attending his 75th reunion next year on August 17th, 2024.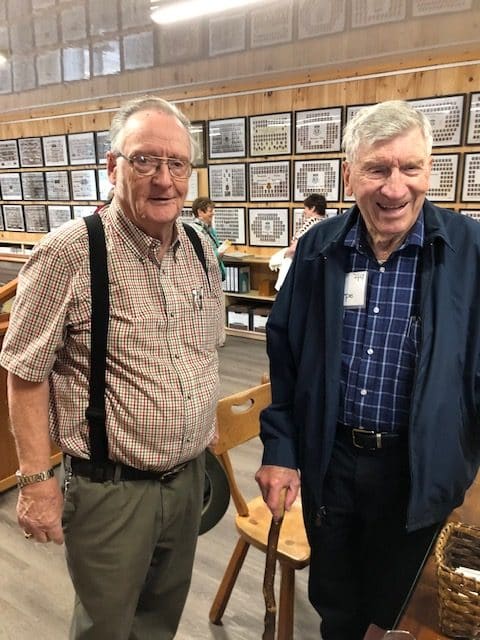 Another Successful Kemptville College Alumni Reunion
By Joe and Grace Allison -year '68
Graduates of Kemptville College descended upon their new Alumni home at Lombardy Fairgrounds for the annual meeting on Saturday, August 19th. Graduating years were represented from 1949 to 1998/99. Years ending in 03 or 08 were honour years, which are celebrated every five years. The 2022 reunion saw years ending in 00, 01, 02, 05, 06, and 07 featured in order to catch up for COVID cancellations.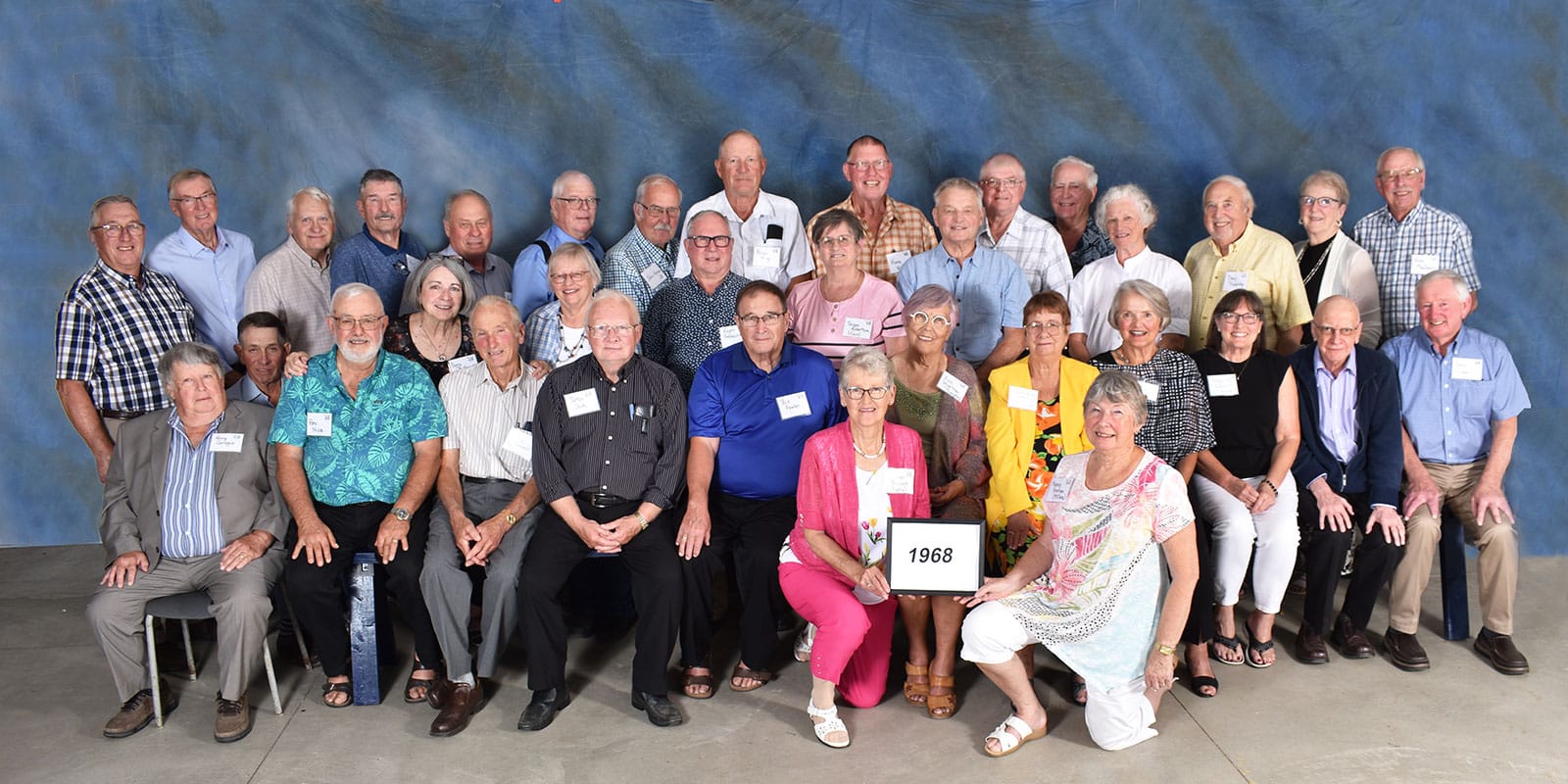 Seventy-two grads and partners enjoyed lunch, followed by 154 attending a delicious chicken dinner prepared and presented by the Lombardy Fair board ladies. The evening program included tributes to Ron and Joyce Burgess for their significant contribution toward the historical building planning, construction, and curating, as well as recognition of Isabel and Don Kinnear for their outstanding fundraising activity.
Allan Earle, on behalf of year '73, presented a cheque in the amount of $4000.00 toward the Kemptville College Alumni scholarship fund, which had been raised at their 50th reunion event held on April 27th. This generous donation, in combination with the evening's auction results, saw $6036.00 raised in total for the Alumni scholarship fund.
Year '68 turned out in force with 56 for dinner, including 35 grads. Once again, they claimed the 'spirit award' until 2024's gathering decides the next year's trophy holder. All Kemptville Alumni are welcome and encouraged to attend each annual celebration, not just their honour 5-year increment. It is a wonderful opportunity to reconnect with old friends, make new friends, and keep abreast of Alumni developments.
Mark August 17th, 2024 on your calendar now. Years ending in '04 and '09 will be honoured but remember everyone is welcome to attend. 2024 Scholarship forms will be on the web shortly. Check out www.kcalumni.ca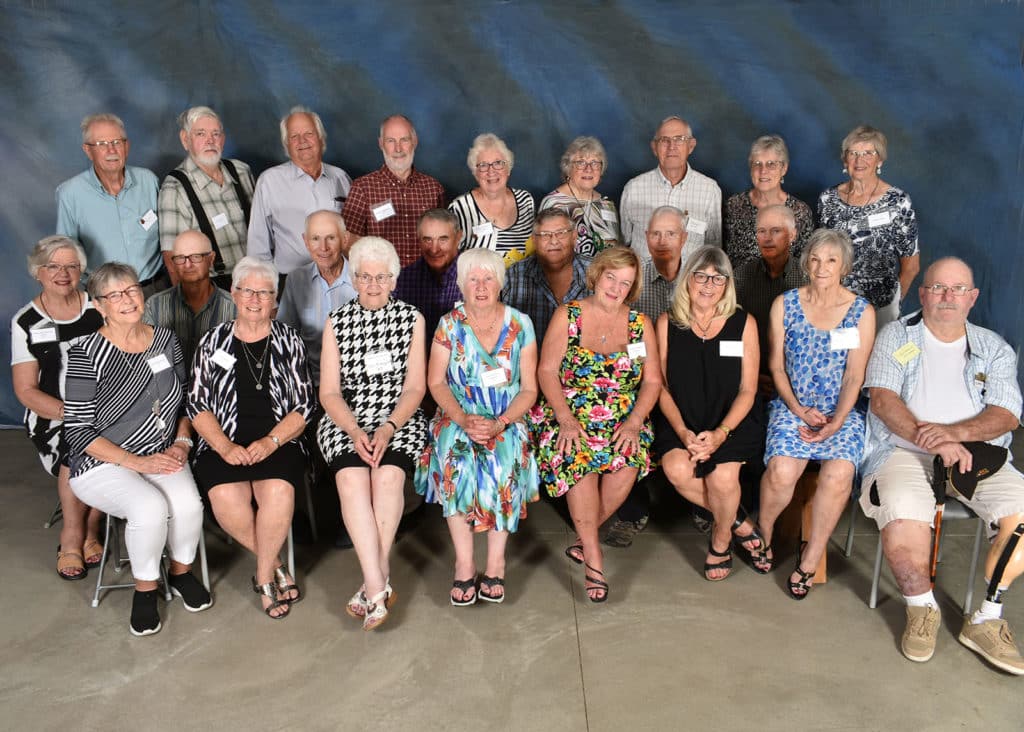 Photography by Margaret Link
---
2023 Kemptville College Alumni Reunion
A Message from the Kemptville College Alumni Board
The Alumni Board is preparing for our annual reunion, Saturday, August 19h, 2023.
It will be held at the Lombardy Agricultural Society Fairgrounds, 7 Kelly Road, Smiths Falls (just off Hwy 15), where our Kemptville College Alumni Historical building has been constructed.
Wheelchair-accessible facilities and grounds.
Motor homes and tents can be accommodated but there is no electrical hook up available.
We are honouring the years ending in '3' & '8' but we welcome ALL graduating years to attend.
As always, we ask the honour years to provide the items for the silent and live auction. We can provide a charitable receipt for your article. The receipt will be according to CRA Guidelines.
The money raised from the auctions will go towards the Scholarship Fund.
Donations will also be accepted and receipted at the reunion.
We are able to accept Credit/Debit Cards for payment the day of the reunion.
Please Bring Lawn Chairs and enjoy the lovely outdoors.
No meal tickets sold the day of the reunion
10:00 am Registration Opens
11:30 am to 1:00 pm Lunch
1:30 pm Annual General Meeting
Local Attractions: Railway Museum of Eastern Ontario: Smiths Falls Heritage Museum;
Rideau Canal Visitor Centre
Enjoy visiting with your classmates after the Annual meeting!
4:00 pm to 5:00 pm Social Hour in Hall
5:00 pm Dinner
4:00 pm to 8:00pm Photographer for pictures
Spirit Award | Silent & Live Auction | Social
Questions
All meal tickets must be purchased by August 10, 2023.
Personal Liquor is not allowed on the Agricultural Society Fairgrounds!
Hotel Accommodations for Reunion
| | | |
| --- | --- | --- |
| Best Inn | 241 Lombard St. Smiths Falls | 613-284-0464 |
| Best Western | 88 Lombard St. Smiths Falls | 613-284-0001 |
| Rogers Motel | 178 Lombard St. Smiths Falls | 613-283-5200 |
| Econo Lodge | 33 Centre St. Smiths Falls | 833-900-2450 |
| Katmor B&B | 26 Willow Lane, Smiths Falls | 613-402-1029 |
| Montague House B&B | 482 Queen St. Smith Falls | 613-283-4198 |
There is camper parking available at the Lombardy Agricultural Fairgrounds.
There is no electrical hookup available.
The 2022 Reunion was a great success.
Over 100 attended lunch, and 250 were at the dinner. Over $3500 was raised for the Scholarship Fund. The class picture below has been provided to the web by Photography by Margaret Link.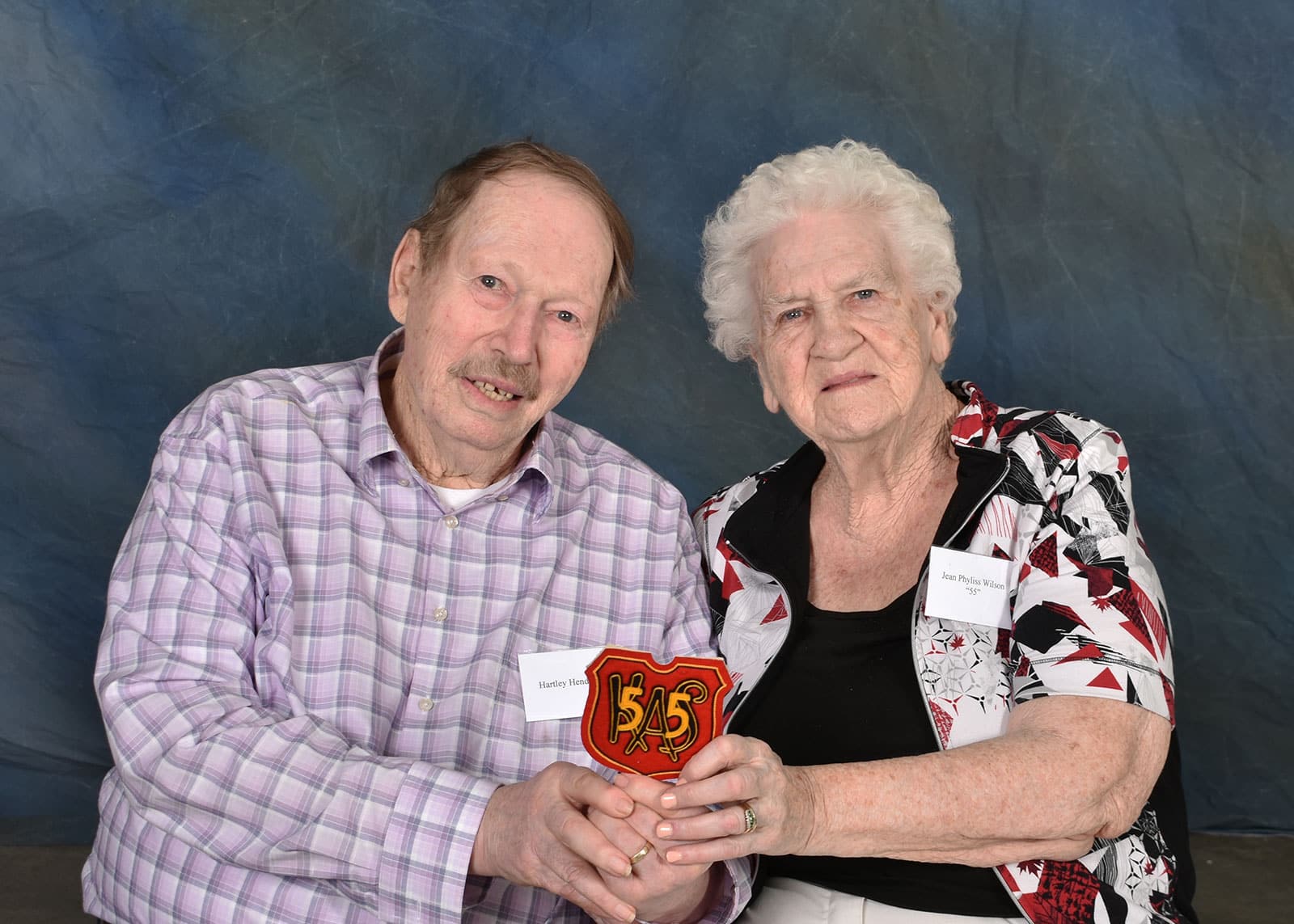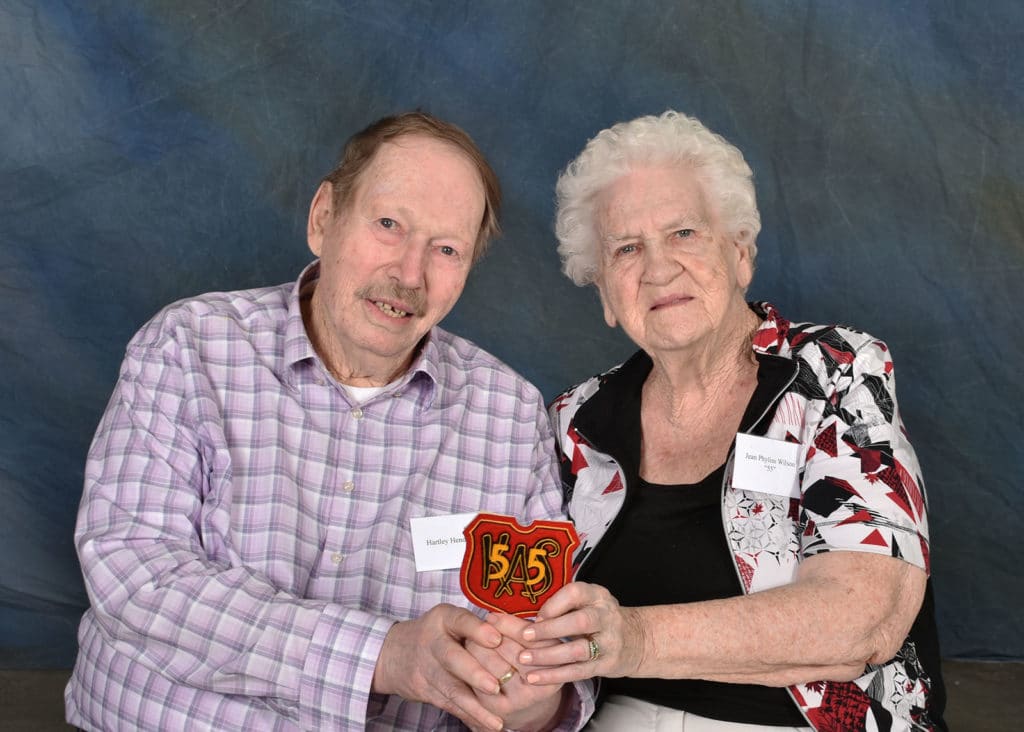 ---
Our building was officially opened on August 24th, 2019. We are presently raising money for the interior cabinetry to display the many important artifacts from our college years.
---