Goal Accomplished
The Kemptville College Alumni Board is pleased to announce we have reached our Fundraising Goal for the Kemptville College Alumni Historical Building. On March 26th, 2022 a cheque from Mel Shannon year 64, helped us achieve our goal. In the picture below, Mel on the right is presenting his cheque to our President Gordon French on the left.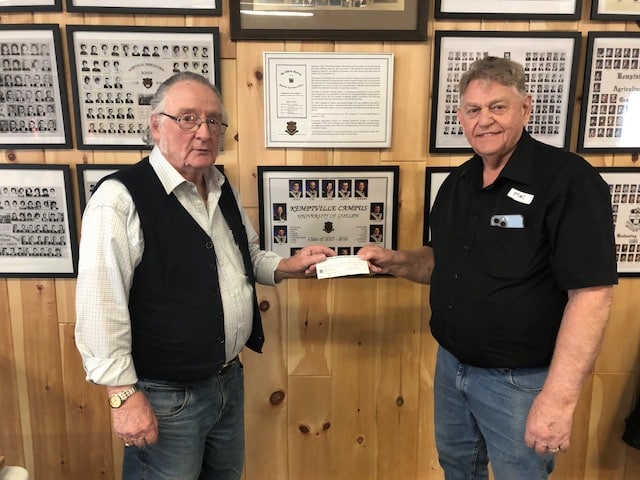 We wish to thank all who have donated to the building and all those who have worked so hard to achieve our goal. Money donated or raised from our auctions at the reunion will now be going to our Scholarship Fund. This will allow young people in their second year at an accredited college in food or agriculture to apply for the financial scholarship.
Final Inspection
The Kemptville College Historical Building has passed the final inspection!
The stonework and gravel have been completed around the outside. Thank you to Ron Burgess and his excellent crew for completing the work.
Gary Brown – G & N Contracting, kindly donated a skid steer to help with
moving the stone. Work continues on the inside and this will continue to be
ongoing.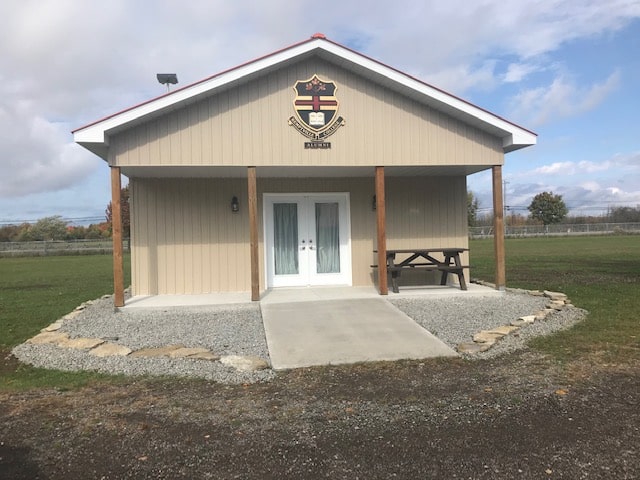 A Home for Kemptville Alumni Historical Artifacts
The Building is Built! We are now completing the interior setup and cabinetry. The Alumni will consider acceptance of articles after we have seen a picture/description. The decision to accept articles will be at the discretion of the executive of the Alumni Board.
Do you want to visit the Historical Building?
You can make an appointment: Please Contact Us on the website.
Official Opening of the Kemptville College Alumni Historical Building
The Kemptville College Alumni Historical Building was officially opened on August 24th, 2019 at the annual reunion. Mayor Ari Hoogenboom, Mayor of Rideau Lakes Township is cutting the ribbon on the left is the Project Coordinator, Ron Burgess, and the Alumni Board members and to the right is the Lombardy Agricultural Society President, Bonnie Covell, and some of the executive members of the Lombardy Agricultural Society.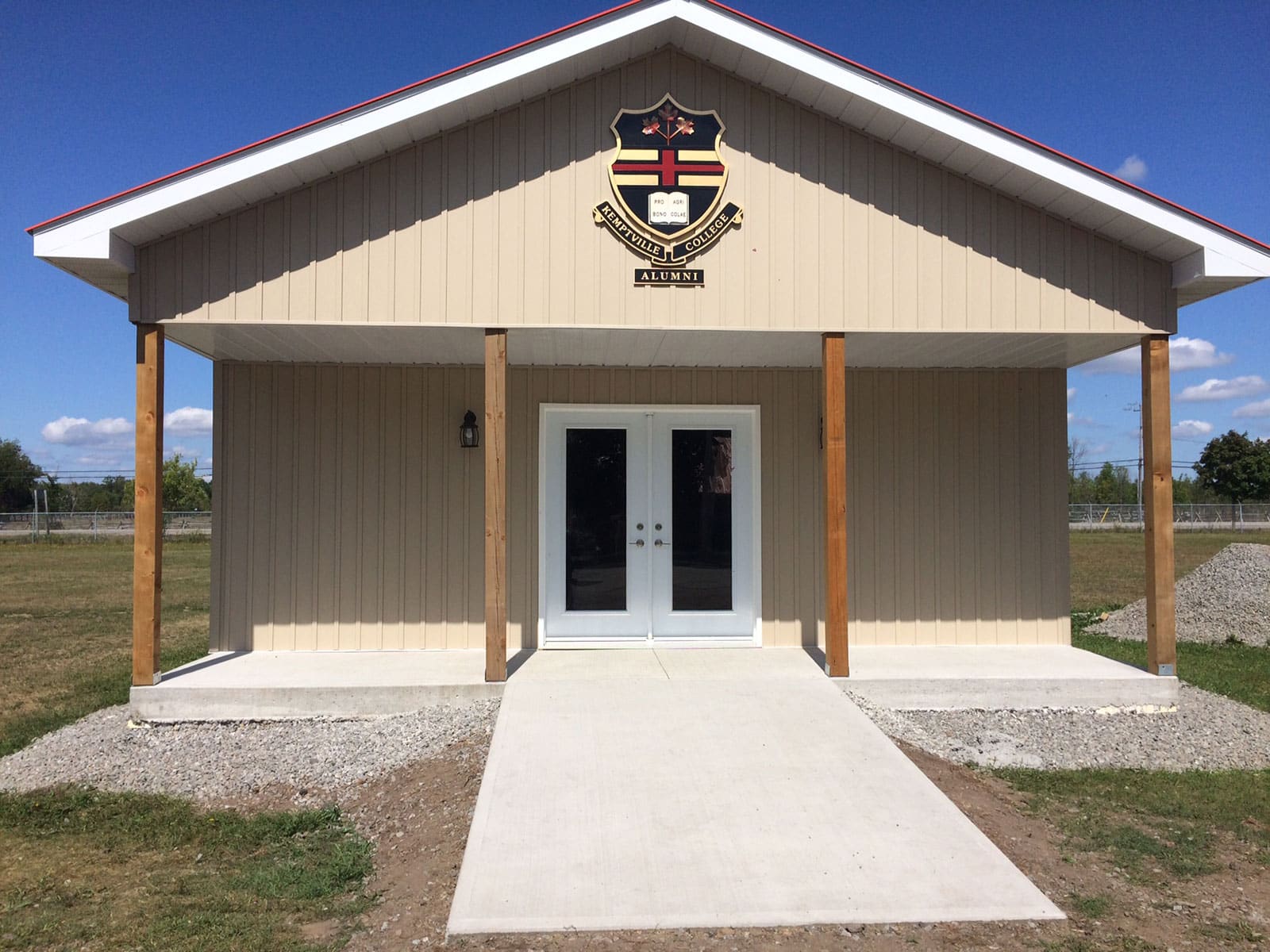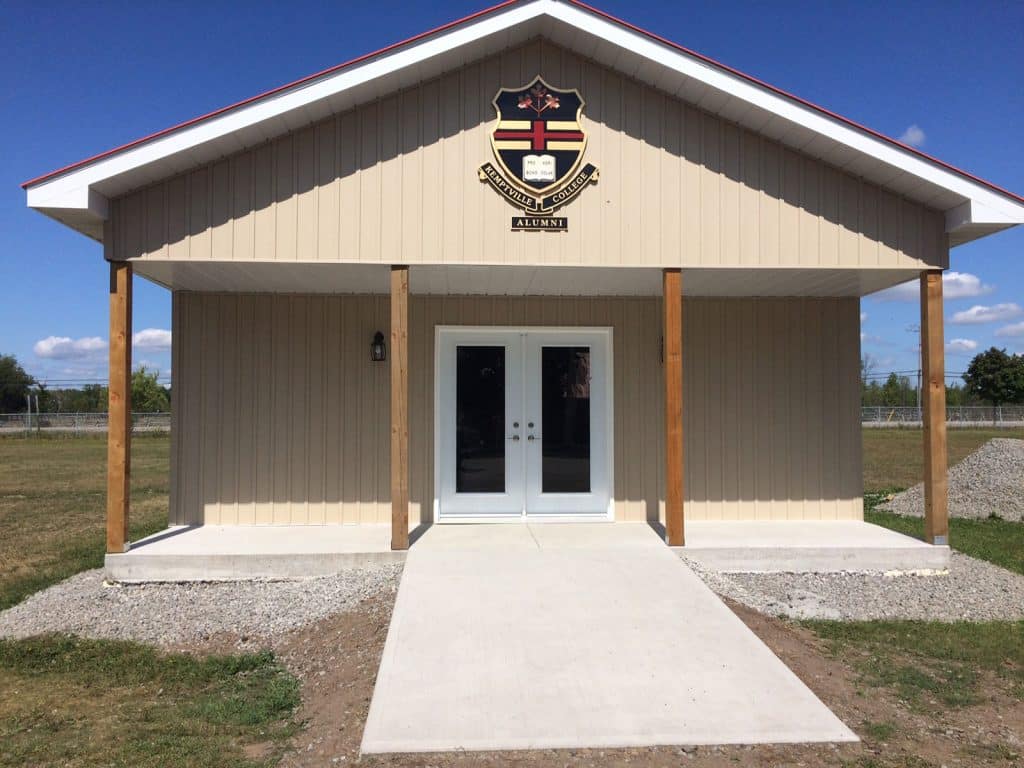 Over 100 people attended the ribbon-cutting and later that day 185 enjoyed a roast beef dinner prepared by the Lombardy Agricultural Society. Grads from 30 graduating years attended the reunion to renew friendships from their college years.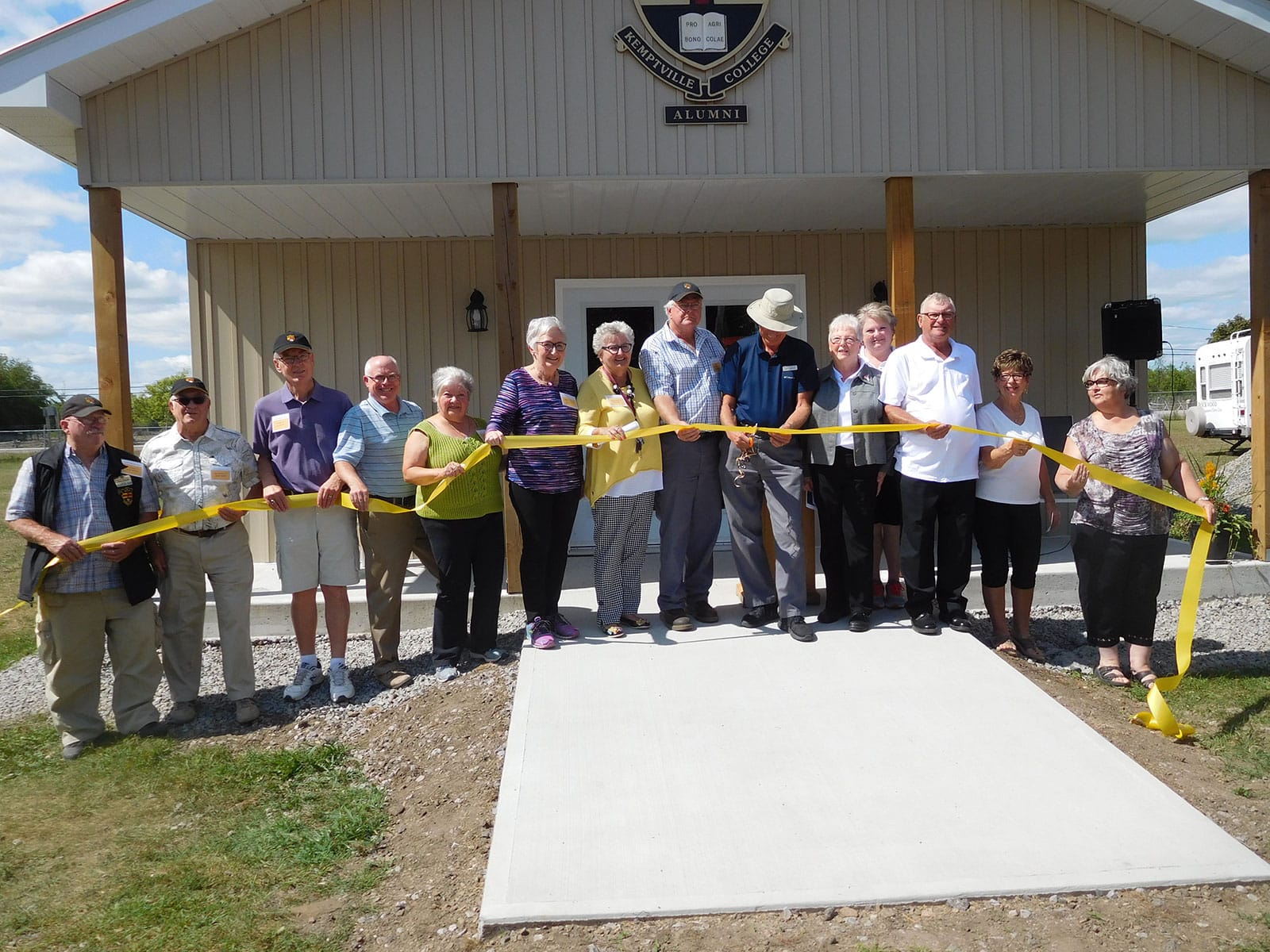 The Kemptville College Alumni extend a thank you to the Lombardy Agricultural Society, Kemptville grads, businesses, organizations, financial institutions, and friends who contributed and continue to contribute financially to the success of this building. The skilled craftsmen and volunteers spent many hours on their weekends to complete the beautiful building that was opened today.
Unity is strength – when there is teamwork & collaboration, wonderful things can be achieved.
Sod Turning For Kemptville College Alumni Historical Building
The Kemptville College Alumni have turned the sod for the Kemptville College Alumni Historical Building. The sod-turning took place Saturday, August 25th, at the Lombardy Agricultural Fair Grounds near Smiths Falls. Our yearly alumni reunion is held at the same location. Over 70 people attended the Sod Turning and then 175 attended the reunion banquet that evening.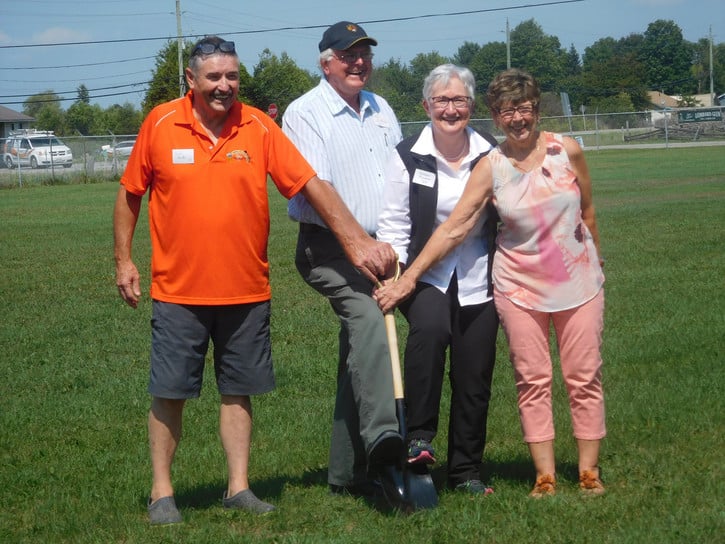 Fundraising started after the building was approved last August and donations to the building fund are greatly appreciated. Financial contributors will receive a charitable receipt and names will be displayed in the new building and on our web page www.kcalumni.ca
As an alumnus, business, or organization supported by Kemptville grads, we hope that you will support our building by sending your cheque to; Kim Link, Treasurer, 12261 Link Road, Winchester ON K0C 2K0.
Memorabilia that you have from your time at Kemptville can also be displayed in the building. 
The official opening of the Kemptville College Alumni Historical Building will take place at our 2019 Reunion on Saturday, August 24th, 2019 at the Lombardy Agricultural Society Fairgrounds.
The Kemptville College Alumni appreciate your ongoing support.
​Foundation poured
September 24, 2018
"Without a solid foundation, you'll have trouble creating anything of value."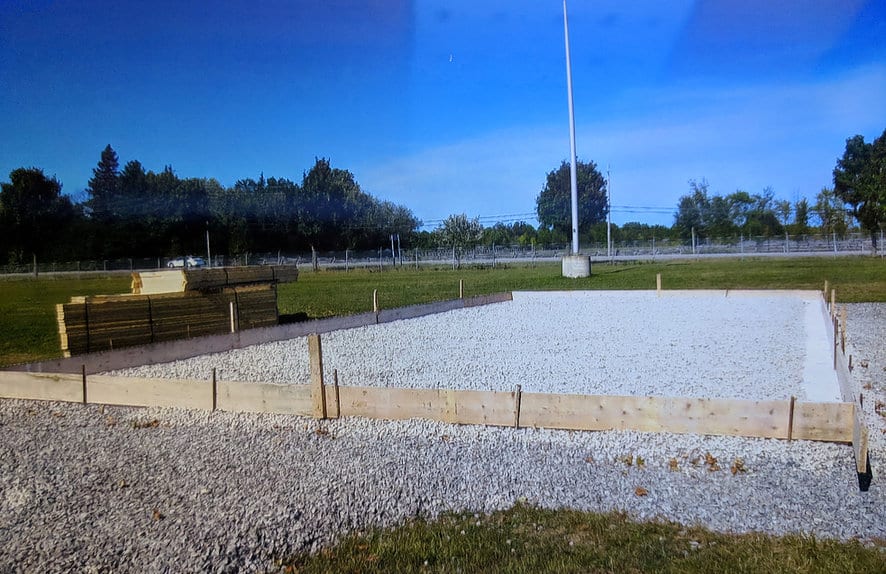 The Historical Building is Rising!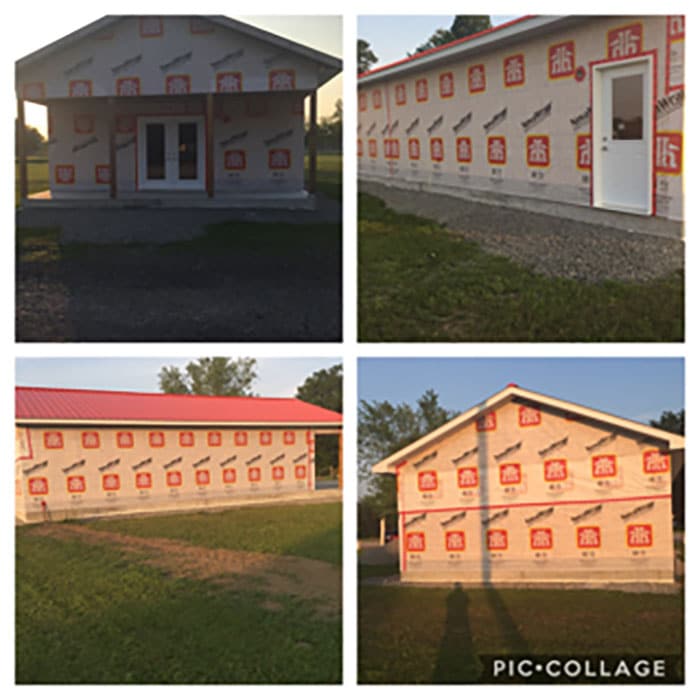 Donations
Donations are now being received.
Cheques should be made out to Kemptville College Alumni, on the Memo line put 'Historical Building'. Please mail cheques to:
Kim Link – KCAlumni Treasurer
12261 Link Road Winchester, ON K0C 2K0
Historical Building Donors
10 Star Diamond $10,000
United Counties of Leeds and Grenville
5 Star Diamond $5000
EastGen
Frances & Gordon French '69
Scotiabank
Mel Shannon '64
4 Star Diamond $4000 to $4999
Douglas Irvine '63
3 Star Diamond $3000 to $3999
Marg Milne '57
Kemptville College Foundation
2 Star Diamond $2000 to $2999
Norm Blodgett '52
TD Bank Group
Joyce & Ron Burgess '68
Royal Bank of Canada
Margaret & Jim Glenn '70
1 Star Diamond $1000 to $1999
In Memory of Rhonda Kinnear '02 by Don & Isabel Kinnear '69
In Memory of Mike Clitherow '61
Allan Earle '73
MacEwen Petroleum Inc.
Ottawa Valley Seed Growers Association
Karen & Ray Pender '63
Ontario Mutuals​
Wever Financial – Gerry & Theresa Wever '83
In Memory of Walter E. Clark '54 '55 by Margaret Milne '57
In Memory of Gerald F. Milne '55 by Margaret Milne '57
Prescott County Federation of Agriculture
Township of Rideau Lakes
Platinum $750 to $999
O'Farrell Financial Services Inc.
Gold $500 to $749
Charles McDonald '67
Lloyd Cross '67
Hial & Audrey Baker '71
Joe & Grace Allison '68
Shirley & Hugh Pratt '47
Cathy & Howard McCann '57
Marlene &Keith Bradley '57
Kim & Graham Link '69
Egg Farmers of Ontario
Lawrence's Dairy Supply Inc.
James D. Tennant '78
St. Lawrence Valley Jersey Club
Sylvain Cheff Construction
Vanden Bosch Farms '61
In Memory of Jeff McCann '87 by Cathy & Howard McCann '57
Dean Laundry '57
Walter Rigney '57
Joy & Joe Krol '80
Kubota Canada Ltd.
Select Sires Genervations Inc.
B. Leeming Construction – Brian '78
Tammy & Charlie Jack '98
Cathy & Hans Vink '68
Bev & Linda Nixon '68 & '69
Henry Oosterhof '89
George Tackaberry & Family, Athens ON
Schouten Corner View Farms Ltd. Ed '70, Rick '83, Jaime '97, Jessica '06
Harvey Wright '56
La Coop Unifrontières
Dundas Agri Systems Inc.
Paul Baxter '68
Malcolm & Susan Robertson '67, '68
Gordon Ross '72
St-Albert Cheese Co-op
Doug Russell
Silver $100 to $499
Florence Burnett '92
Robert & Judy Kirby '69
Jim & Cheryl Lariviere
Marguerite & Gordon Dodge '60
Green Tech in Winchester: R. Inderbitzin '93
Roy's Chevrolet Buick GMC Inc.
In Memory of Bruce Cummings by Cathy & Howard McCann '57
Lynda & Peter D. Jack '68
Susan & Danny Johnstone '69
Norwell Dairy Systems Ltd.
Leo Sarault & Fils Inc.
D.M.D. Picard – DeLaval
Wilkridge Farm-Peggy & Ken Wilkes '82
Glengarry Stock Farms – Warren '86, Trudy '91, Brittany '13
Michel Beauchesne '82
In Memory of Reg Willis '63 by Maarten van Hoeckel ' 67
Maxville Farm Machinery Ltd.
Sharon Blanchard '69
Marleen & Kevin Elshof '08
Yvonne & Chris McDonell '62
Linda & Jack Fraser '69
Collins Barrow WCW LLP
Elizabeth & Campbell A. MacGillivray '70
In Memory of Lawrence "Bud" Thompson '57 by Cathy & Howard McCann '57
Doug & Jennifer (McCann) Jeffs '90
Arnprior Region Federation of Agriculture
Ayrshire Ontario
Finch Feed & Seed – Paul Oosterhof '86
In Memory of Roy McHolm '57 by Doreen McHolm
Don Thompson
National Farmers Union Ontario
In Memory of Betty (Brown) Cavan '57 by Margaret Milne '57
In Memory of Mary ( McHolm ) Halligan '57 by Margaret Milne '57
George Avery '53
James Arbuckle '62
MLS Insurance Brokers Inc.
In Memory of Ron McRae '59 by Carolyn McRae
Dave Carson '63
Gary Holmes '67
Ross Mac Donald '68
Larry & Ruth ( Brose ) Davidson '68
Edward T. Dallman '63
Harold Haig '53
Mary & John Joynt '63
Marion & Bob McComb '82
Elaine & David Morrow '64 '65
Jean & Art Bennett '48
Sue ( Creighton ) Hallam '68
Lois & Harold McKnight '67 & '65
In Memory of Bill Hossie '68 by Earl Hicks '68
Bob Mark New Holland Sales Limited
Carol & Ford Patterson '59
Harry Hulton '62
Trevor Boyd '62
Mary Hume & Walter Hambleton '58
Garry Howes '69
In Memory of Gordon Reid by Don & Isabel Kinnear '69
Levac Propane Inc.
Tony Desnoo '91
John Wright '51
Bogue Photo – Hawkesbury
Pratte Portfolio Management Inc.
Maxville Home Hardware
Peter Clarke '55
Irene Rosbottom '64
Marie (Glover) Dunlop '55
Roger Pommainville '68
Roger & Barbara Redner '58, '59
Barb & John Fraser '69
Don Moorhouse '55
Staples – Kemptville
Ruby Scheel Hammond '60
Hugh Hammond '60
Lisa & Blair Dow '84
Stephanie (Halliwushka) Brindle '69
Hugh Sharpe '49
Dave Spence '69
Glenn Wells '48
Judy & Doug Trumbley '68
Class of '64
In Memory of Bob Lang '64 by Joe & Grace Allison '68
In Memory of Robert Lang from the McBurney's
Jim & Cathy Baldwin '89
In Memory of Bob Lang '64 by Lactanet
In Memory of Bob Lang '64 by Charles Gracey
In Memory of Bob Lang '64 by Nancy Curtis
In Memory of Bob Lang '64 by Heather & Ron Stewart
In Memory of Bob Lang by Carol – Ann Rainville
Marion McComb ~~ Happy Birthday to Ron Herrema '82 & Bob McComb '82
Tamara & Daniel Ferguson '82 ~~ Happy Birthday to Ron Herrema '82 & Bob McComb '82
Marion & Bob McComb '82 ~ Happy Birthday to Dan Ferguson '82
G & N Contracting, Lombardy
Bronze Up to $99
Paul Dunlop '52
Bruce Garlough '65
In Memory of Basil Wren by Kim & Graham Link '69
Kathleen Jack
Virginia Notley '78
Jim Youngman '68
Tammy Hart '79
Graham Hudson '54
In Memory of Marie Wilkes by Don & Isabel Kinnear '69
Kathleen Betts '55
In memory of Kevin Allen '81 by Don & Isabel Kinnear '69
Bruce Stewart '68
In Memory of Kevin Allen '81 by Valerie Allen
Glenn Smith '67
Jim Davidson '71
Eleanor (Christy) Lempke '64
In Memory of Bob Lang '64 by Tom & Jan Clapp
In Memory of Bob Lang '64 by Mary Ellen & Bruce Garlough '65
In Memory of Bob Lang '64 by Aline & Earl Hicks '72 '68
In Memory of Bob Lang '64 by Linda & Kerry Carneige '73 '68
In Memory of Bob Lang '64 by Janet & Alton Whitehorne '65
In Memory of Bob Lang '64 by Mary & John Joynt '63
In Memory of Bob Lang '64 by Don Moorehouse '55
In Memory of Bob Lang '64 by Lois & Dale Keyes
In Memory of Bab Lang '64 by Nancy & Wilfred Shier '65
In Memory of Bob Lang '64 by Linda Resbeck
In Memory of Bob Lang '64 by Ron Visser '64
In Memory of Bob Lang '64 by Stuart Leyenaar
in Memory of Bob Lang '64 by Karen & John Velthuis '79
In Memory of Bob Lang '64 by Geoff Taylor '64 & Susan Marten '66
In Memory of Bob Lang by Cheryl & Brian Grant
In Memory of Bob Lang by Joan & Charles Farlinger '62
In Memory of Bob Lang by Maureen Leeson
In Memory of Bob Lang by Elaine & Dave Morrow '64
In Memory of Kevin Allen '81 by Murray & Shirley Allen
In Memory of Bob Lang '64 by Ellen & Bruce Mooney '67, '69