The Kemptville College Alumni Association extends a thank you to all who supported the Scholarship Fund and to Allan Earle, the year rep for '73, for all his hard work! Hopefully, some '73 grads will be able to attend the reunion in Lombardy on August 19th.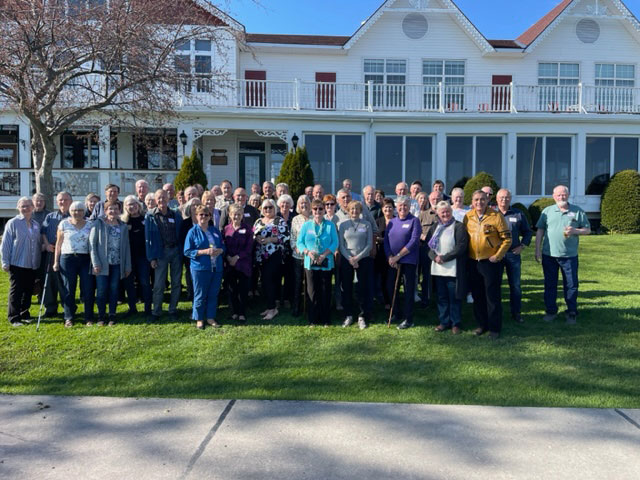 On April 27th, 55 people gathered at the Glen House Resort in the 1000 Islands to celebrate the 50th Year Reunion of KCAT class of '73'. The group included 40 classmates, including two couples that traveled from Alberta. During the dinner, a fun auction raised $4,000 for the KCAT ALUMNI Scholarship Program as a Tribute to KCAT!
Donors and buyers were: Jim &Lynne Finn, Brian and Marg Bourke (Shannon), Tom and Marilyn Fahey, Ed and Bridget Hunt (Lawless), Gail Reeves(Yuille), Ruth Miller, Elwin Earle, Allan & Cathy Earle, Terry & Paula McElroy (Turner)
Thanks to all contributors: Ainslie and Joan Read (Reddick), Eric and Sandy Johnston, Richard and Anne Berube, Barry and Louise Lynch, Ed and Laura Robinson, George and Linda Robinson, George and Louise Pyke, Paul and Nicole Bourgeois, John and Connie Gould, Dave and Joan Dorland, Jim and Marg Althouse, Wayne and Dianne Little, Les and Marilyn James, Peter, and Geraldine Matthews, Kevin and Sharon Darling, Lorraine Barr (Cox), Ann Bradley (Gooch), Evelyn Sprigings (Sparrow), Pam Somerville, Catherine McKeough (Lapointe), Brian Findlay, Kipper Trevorrow, Peter Harper, Dave Garrah, Dale Hughes!
Memories, reflections, and 50 years of laughs were shared. A tribute was paid to the classmates that we have lost – gone But Never forgotten: Peter Verhallen, Bill Teasdale, Kevin Hunt, Barry Sprigings, Reg Barr, Brett Reeves, Jim Nelson, Al Somerville, Joan Dickinson, Janice Fellows, Pat Barr, Tom Carling.
(apologies to the ones we have missed)