We bring in 2023 by highlighting someone who is a Kemptville College Grad, Kemptville College Instructor, and Kemptville College Liaison to Alumni.
Blair Dow graduated from Kemptville in 1984 and was employed at Kemptville College from 1988 to 2008. While at the college, Blair was very involved with the College Royal. He wanted every student to have a hands-on experience with the College Royal activities. It was the same with the courses he taught at the college. Many students have remarked about their learning experiences being "hands-on". Blair enjoyed teaching Animal Science courses as well as the Dairy Apprenticeship Program and has stayed in touch with many of the students who graduated while he was there.
For the next ten years, Blair taught at Lakeland College in Alberta ( 2008 – 2018). This meant leaving Metcalfe with his wife Lisa and son Travis and living in Vermilion, Alberta. When visiting the college while Blair was teaching there, it was interesting to have students come up to me and say, "That is my heifer." I thought they had brought their heifer to the college – but no – once again, Blair's hands-on approach with the AI courses showed students their success. They felt with AI success at the college, that really was their heifer.
In 2018, Blair and his family moved back to Metcalfe, and Blair was then hired to be an instructor at the Business- Agricultural Diploma Course at Algonquin College, Perth Campus (2019 – 2021)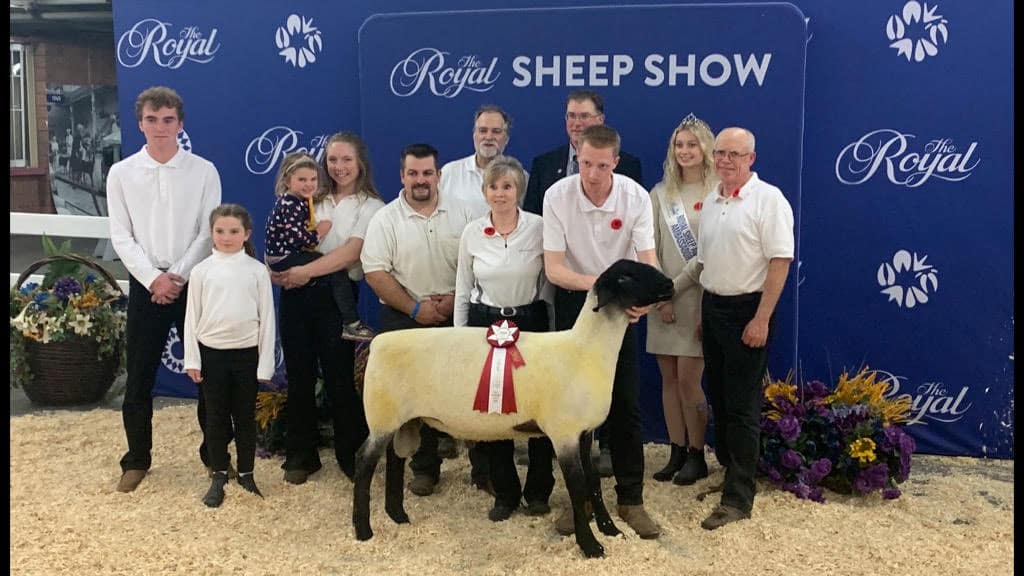 Blair's love of sheep was always in his background. Bill Dow, his grandfather, gave him his first sheep when he was five years old. Today Blair, his wife Lisa, and his son Travis own "Three D Suffolks." Pictured above is the picture of the First place Suffolk Ram Lamb at the 2022 Royal held in Toronto. Blair is on the right in the front, Travis is holding the lamb, and Lisa is beside Travis. Blair's Royal crew are also in the picture. Beside Lisa is Kyle Sequin, who attended Kemptville and was chair of the Dairy Heifer Sale for the Kemptville College Royal. In the back row (with the beard) is another crew member Randy Sequin who graduated from Kemptville in 1980. Both Kyle and Randy were a contribution to Blair's success at the Royal.
From student to now a Kemptville College Alumni Board Member, we thank Blair for his contribution to agriculture.